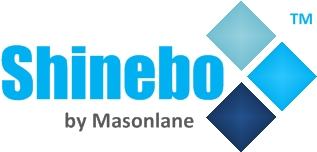 A new day for Small Business Management.
Easily run and manage business operations whenever, wherever in the cloud, with the Shinebox - Small Business Management Application. An affordable, simply $49/month, all-in-one cloud based application, providing total business management solutions, from initial customer inquiries to receiving on-line payments, Shinebox is built to collect, organize, record, and assist with efficiently operating a successful business.
Shinebox is an All-in-One Small Business Management Application that is entirely Web-based. Which Features Complete Management for; Finance, Billing, Invoicing, Projects, Tasks, Scheduling, Calendar, Personnel, Customers, Vendors, Reports, Charts, Administration, Estimates, POs, Work Orders, Inventory, Services, Mapping, Routing, and Directions. Accept on-line credit card payments. Automatic Billing and Invoicing thru email. Easily run and manage your Business Operations from the Internet with Shinebox by Masonlane.
More about Shinebox's features.